Looking for the ultimate holiday gift for the tennis enthusiast in your life? Look no further! We've handpicked the most delightful tennis-themed products and combined them into special bundles just in time for the holidays. These exclusive bundles are sure to ace your gift-giving game this season!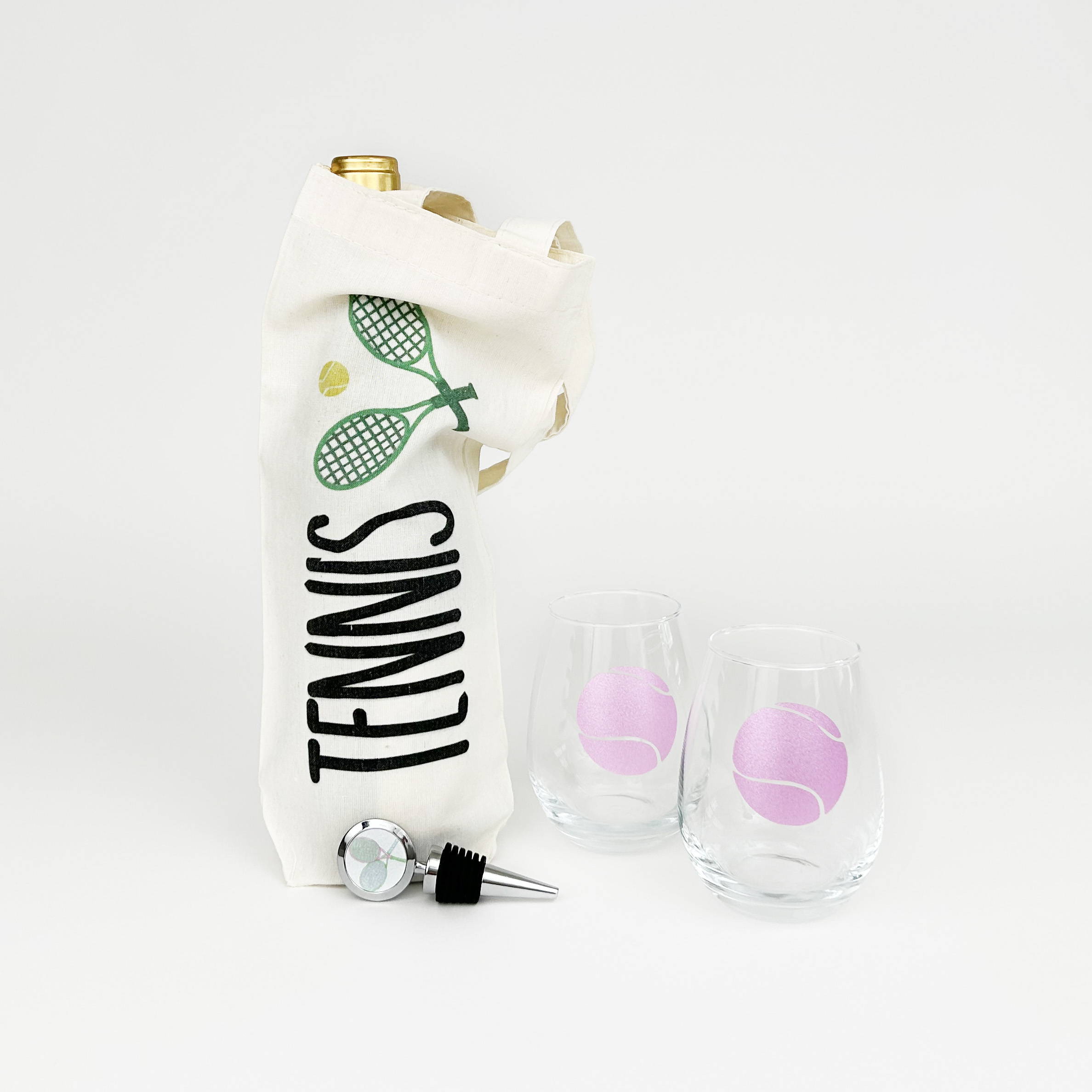 The "Tennis & Wine Bundle"
🍷 Our Favorite Wine Tote: Keep your favorite bottle of wine stylishly chilled with our premium wine tote. Whether you're headed to the court or a picnic, it's the ideal companion.
🍷 Tennis Racket Wine Stopper: Add a touch of tennis flair to your wine collection with our unique tennis racket wine stopper. It's not just functional; it's a conversation starter!
🍷 Brand New Pink Tennis Ball Wine Glasses: Raise a toast to your love for tennis with our exclusive Pink Tennis Ball Wine Glasses. Perfect for sipping your favorite vintage while watching the matches.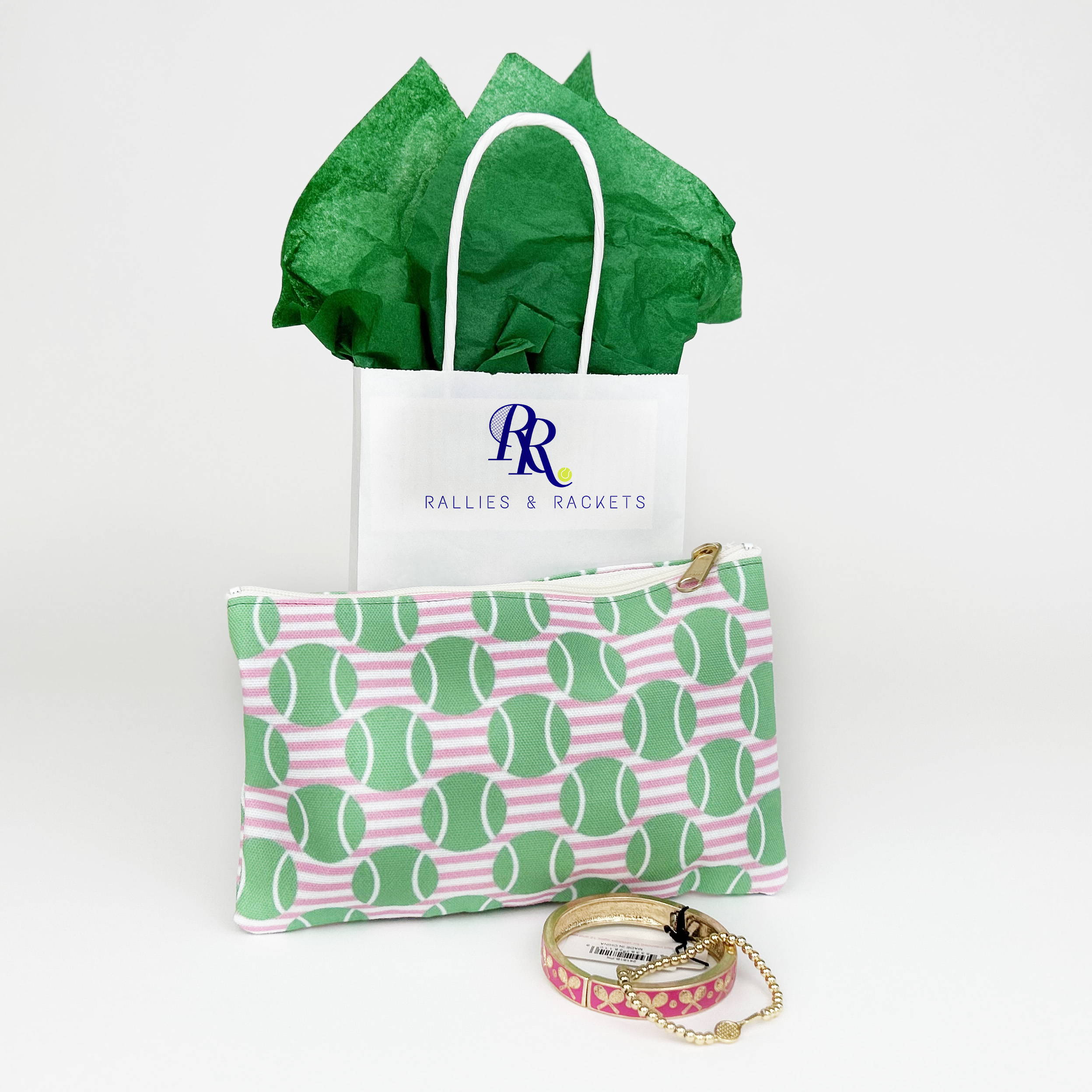 This thoughtfully curated bundle combines practicality and style, making it the perfect gift for the stylish tennis player.Inside the "BUNDLE FOR HER," you'll find:

🌸 Adorable Pink and Green Tennis Zip Pouches: These charming pouches are perfect for staying organized on and off the court. Use them to keep your tennis bag tidy, store essentials like keys and wallets, or simply add a pop of tennis-inspired style to your everyday life.
🎾 Top-Selling Tennis Bracelets: Our bundle includes two of our best-selling tennis bracelets:
*Enamel Bracelet (Pink, Navy, or White): Choose her favorite color or mix and match to suit her style. These enamel bracelets add a touch of elegance to any tennis outfit, both on and off the court
*Gold Beaded Tennis Racket Bracelet: This dainty, gold beaded bracelet features a delicate tennis racket charm, a subtle nod to her love for the game.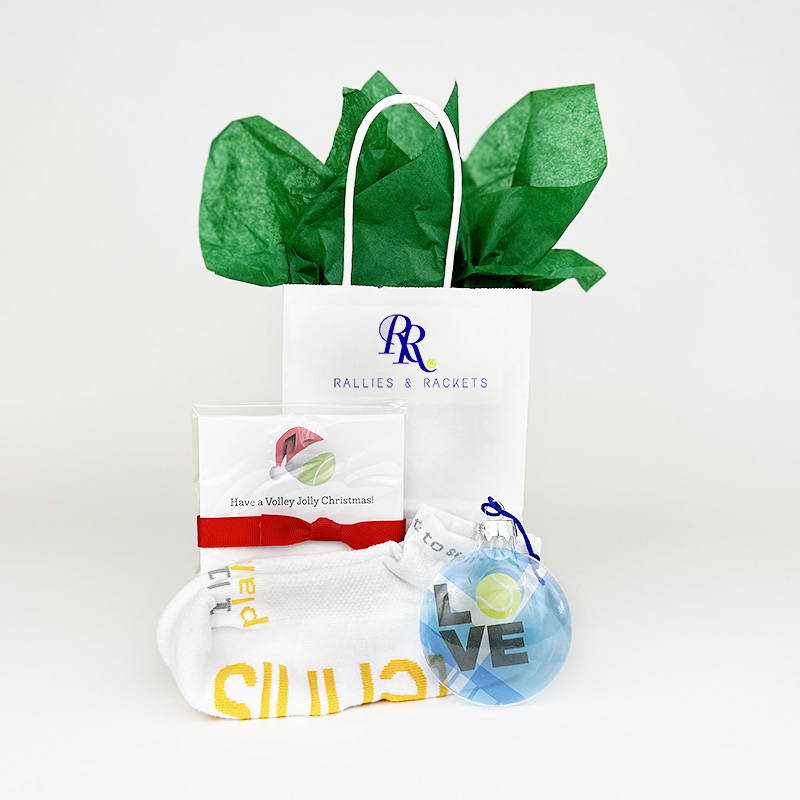 The "Stocking Stuffer Bundle"
Our "Stocking Stuffer Bundle" is here to make your loved ones smile with joy. It's a delightful combination of holiday-themed tennis goodies that fit perfectly into any stocking.
Inside the "Stocking Stuffer Bundle," you can choose from the following options:
📝 Holiday Themed Tennis Notepads: Stay organized with our adorable tennis-themed notepads. Whether it's jotting down match scores, your tennis goals, or simply spreading holiday cheer, these notepads are both functional and festive.
🎄 Tennis Holiday Ornaments: Add a touch of tennis magic to your holiday decorations with our charming tennis ornaments. Hang them on the tree, or use them as a decorative touch in your home. They're a delightful reminder of the love for the game.
🧦 Comfy Tennis Socks: Keep your feet warm and cozy during the chilly holiday season with our comfortable tennis socks. Designed with tennis players in mind, these socks are perfect for wearing on and off the court!